Calcium Magnesium Acetate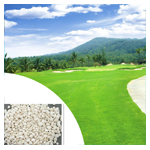 Applications:

Snow-Melting Agent for Airport (MTW-JC SERIES), is researched and developed as one new kind of environment-friendly snow-melting agent for melting the ice and snow in airstrip, parking apron and taxiway in very short time. Compared with the traditional melting method in blow way, it can save energy and time.

Packaging:

25kg/bag, 1000kg/bag, packed by PP woven bag with liner PE.
Store:

Kept in cool and dry place, avoid insolation, rain and heat.